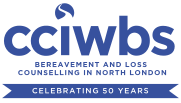 Welcome to CCIWBS Bereavement and Loss Referrals
Please note we cannot accept any referral for a bereavement/loss that happened less than 8 weeks ago and we can only take referrals for people over 18.

Our waiting time for assessment is currently 12 weeks.

Please follow the links below to either refer yourself or to refer a client to us.


Referring Yourself
If you are referring yourself, please click
HERE
Please note:
- If you are currently working with any mental health professional or keyworker, please ask them to make a professional referral for you.
Professional Referral
If you are a mental health professional or keyworker working with a client, please click
HERE
We also offer Early Intervention Sessions
These are aimed at providing immediate support after an unexpected/traumatic death. Sessions are with the same counsellor each week on the same day and the same time. 
Each session lasts 50 minutes.  Clients are offered a maximum of three sessions.
If you would like to know more about this provision, please email us at
referrals@cciwbs.org.uk
giving your name, brief details of the death and its impact and a contact telephone. We will contact you to discuss if this is suitable for you.